The carpet might be ripped out from under you, but you can always find another carpet to stand on
Kathryn Barton, Journalist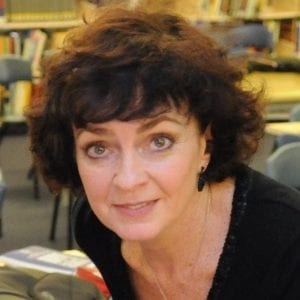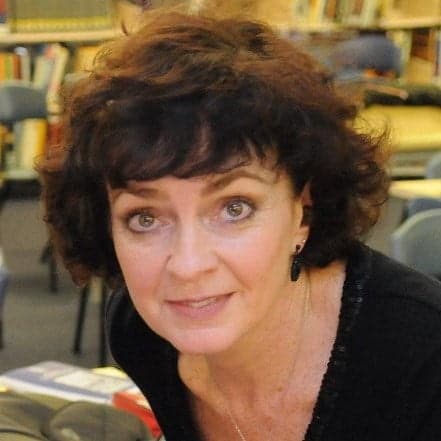 When I was 11-years-old I made a pivotal decision about my future in the middle of Mass one Sunday morning. 'I'm going to be a journalist,' I confidently announced to my parents as we walked out of church into the blazing sunshine.
Evidently, this came as no surprise to Mum and Dad as I had been chasing them around the house reading snippets from the local paper, the St George and Sutherland Shire Leader, ever since I had learnt to read at the age of four. Little did I know at the time that it would take another 30 years to launch my journalism career and it would abruptly end while I was still in my prime.
My beginning
I grew up in a Catholic family of six children, three sets of Irish twins— four girls and two boys. We fiercely competed—if my younger sister Bernadette did three hours of study, I would do three and a half hours. If I did five, she would do six… and so it went on right through school and beyond between the six of us. The funny thing is, our parents were oblivious and were surprised when we told them about it once we had all finished school. At one time or another each of us kids experienced the buzz of being top of the class—once you have felt the rush of blood to your head and the glow on your face, you do not want to fall backwards, so as well as competing with our siblings, we were highly competitive with our classmates, some of whom were cousins.
In my role as the eldest daughter I successfully negotiated all the usual boundaries with my parents—permission to pluck my bushy eyebrows, shave my legs and wear mini-skirts. But my negotiation skills let me down terribly when it came to the subject of a university education.
In our family it was a given that the boys would study at university and the girls would leave school early, get nice secretarial jobs, find suitable husbands and have kids. I hoped to be a mother one day, but I wanted to become a journalist first. Unfortunately, my mother did not think journalism was the 'right' kind of job for a young woman and she had other ideas about my future.
During Year 10 I told my parents that I wanted to stay at school to finish Years 11 and 12 so that I could go to university, but it caused a lot of angst in our household and my parents argued about it at night. One evening when Mum was up to her elbows in lemon scented soap suds washing the dishes and I was drying them, she turned towards me, looking directly into my eyes.
     'If I let you finish high school then go to uni Kathryn, I'll have to let the other three girls go as well,' she pleaded. 'We can't afford to support all you kids through uni. You girls must leave school, get good jobs.'
'But Mum – '
'I won scholarships at school and wanted to be a psychologist, ' she added, 'but you kids came along and put a stop to that.'
Tears streamed down my face. I felt as if I would throw up my dinner of sausages, mash potato and peas. I dumped the damp tea towel onto the  laminate bench and stomped  to the bedroom I shared with Bernadette, slamming the door so hard that it made the windows rattle.
Later that evening, I heard a knock on my door, but thought it was my sister wanting to go to bed, so ignored it. The door opened a fraction and I could smell Dad's aftershave.
'Is it Okay if I come in darling?' He waited for me to nod, then took three steps across to my bed. He knelt down beside me, his knees creaking loudly.
'Don't worry Kathryn,' he said, his eyes smiling. 'You can study as a mature age student once you have a job. Your time will come.' At 16, I couldn't see this happening, but it gave me a sliver of hope that one day I may achieve my ambition.
A rude awakening
When I finished Year 10 my mother enrolled Bernadette and me in secretarial college. Knowing that journalists had to do fast shorthand and typing, I pursued my studies with zeal and was Dux.
My first job was as a receptionist for a marine surveyor. Typewriters were still the norm and I  had to keep seven carbon copies of everything I typed on my Olivetti. I quite enjoyed working there, but one Friday afternoon I heard a strange noise above my head when I was in the bathroom. Looking up, to my horror I saw a man staring at me over the top of the adjacent toilet cubicle. I resigned as soon as I got back to the office. That night my father rang the police, but nothing came of it and I sailed into my next job the following week as secretary to a foreign exchange manager at Banque Nationale de Paris.
Throughout my twenties I worked in a series of secretarial roles, but my father often reminded me about studying as a mature age student. So that is what I did in my thirties. I enrolled in a Diploma of Marketing Practice at the University of Technology, Sydney, which helped me transition into public relations in the telecommunications sector. It was an exciting time to work in the telecommunications space given its pace of innovation and the launch of new communications channels like Pay TV. Chuffed to be one of the first four employees at the fledgling pay TV company Austar,  I loved watching the company rapidly grow around me. After a few years at Austar, I secured a more senior role at Telstra Wholesale as Public Affairs Manager.
Achieving my dream
At Austar I wrote several media releases every week. I knew I could be a good writer but the media releases were rubbish. Determined to improve, I enrolled in a news and feature writing course at Wollongong University via distance learning. To my surprise, I scored a high distinction and the lecturer suggested that I start a Master of Journalism degree the following year. I thought about it for a millisecond then signed up the next day.
I studied journalism part-time and then in third year took two months leave from Telstra to do an internship at the St George and Sutherland Shire Leader. Writing news stories and feature articles and doing my rounds every day was a dream come true for me. The tight deadlines suited me as I have always been deadline driven—at school I never started assignments until the night before they were due—so I loved the turbo-charged atmosphere at the Leader. I work best under frightening conditions, so the role fitted me like a glove. My spine tingled early every morning as I entered the Leader's front door and it continued to do so until late every evening when I reluctantly clocked off.
During the internship, I discovered to my delight that I was pregnant. As I had always wanted to be a mum, it seemed that both of my lifelong dreams were well within reach. Sadly, it was not to be. A miscarriage at 10 weeks and several failed attempts at IVF forced me to accept that I was not going to be a mum. I didn't want to face a childless life and thought that the best thing to do was to bury myself in books. Fully filling my brain with exciting ideas and interesting projects helped me to forget about the baby. That is why I worked so hard and it is why I scored such high marks. I often thought to myself, 'Please don't let me stop thinking about this assignment because then I'll think about the baby.' I wondered what I would do with my life. Realising that the first step was to change my mindset, I wondered how I could do that goal given my upbringing.
Despite my grief, I did get lucky in one way because at the end of my internship at the Leader the health reporter went on extended leave, so the paper's editor offered me a temporary role to fill in for her. I resigned from Telstra the same day and was finally to be a journalist . . . at the ripe old age of 41. At the Leader, I met several inspiring people, did my rounds every day, nurtured contacts across the Sutherland Shire and published story after story. I was so proud to see my name in the by-line and to know that I had finally made it. I was a real journalist and the job was everything I had ever dreamed it could be.
Soon after taking this role, I broke a massive story of a lady who had suffered from extreme abdominal pain for 18 months. Her doctors told her to meditate, do yoga and aromatherapy. She eventually found a new doctor who suggested that she have an X-Ray. The GP's receptionist rang her a few hours after the X-Ray, asking her to return to see the doctor as soon as possible that day. When she saw the X-Ray, she was gobsmacked. To her amazement, it revealed an enormous pair of open scissors—17 cm in length—lodged in her abdominal cavity. The media frenzy triggered by my story was crazy, so I went to her home to see how she was coping with the furore. There were dozens of film crews and journalists climbing over the front fence and clambering over each other to get into her little fibro house. My heart rate rocketed as I walked along the concrete path to her front door, knowing that she had refused entry to the media throng, some of whom were even brandishing exquisite bunches of flowers. This was my first big story and it went international. It was way beyond my wildest dreams.
I stayed at the Leader for four years, then was appointed as editor of the advertising publication, AdBrief. It was a terrific role, writing breaking news stories about the advertising industry, opinion pieces and feature articles. While at AdBrief, I enrolled in a Master of Creative Writing degree at the University of Technology, Sydney to further improve my writing skills and also to fill the hole left by my inability to have a child. After four years at AdBrief, the Catholic Education Office recruited me as a senior journalist to write news and feature stories for the weekly newsletter that was distributed throughout Catholic schools in the diocese.
In my second year at the Catholic Education Office, I accompanied a group of high school students to Spain for World Youth Day celebrations, but I felt unwell during the trip. It turned out to be glandular fever. Each morning for weeks on end I woke up hoping that I had turned the corner, but each day I felt the same—as if I had been run over by a herd of elephants. It seemed to go on forever. And it did…
An abrupt ending
The glandular fever hung around for much longer than usual, so my GP referred me to a specialist. He sent me off for several tests, eventually diagnosing myalgic encephalomyelitis (ME), also known as chronic fatigue syndrome. It is most likely that the glandular fever triggered ME, a viral illness characterised by muscle pain and inflammation of the brain and spinal cord. Its main feature is an extreme level of exhaustion and flu-like symptoms.
Activities like going for a short stroll, having a latte with friends or driving the car can cause a flare up that lasts for days or even weeks. The symptoms are many and varied—problems with thinking, concentrating, memory loss and vision, clumsiness, muscle twitching or tingling, disrupted sleep, pain or aches in the muscles, joints or head, blood pressure changes, dizziness, palpitations, increased heart rate or shortness of breath with exertion or on standing.
It has dragged on for six long years. For six long years I have felt like a failed person. I have a teeny weany, microscopic virus happily living in my gut that refuses to die and it has taken over my entire life. For six long years I have fought this thing tooth and nail. Every morning I wake up hoping to be better, but each morning I feel as if I have just run a marathon. I have had the odd day where I feel like it's over and I am normal again, but it doesn't last long.
I always know I have ME because of the effects on my thinking ability and memory. My brain power has gone. My career as a journalist ended with ME when my self-doubt and an inability to stick to deadlines set in. I was consumed with dark thoughts, 'I'm not good enough' and 'I can't do this properly anymore'. When it first hit I felt like my life was over and on a bad day that feeling consumes me. I have lost all sense of worth—even my brothers, sisters and friends treat me differently, which is hard to accept. I did not realise to what extent my sense of worth was wrapped up in academic and work achievements until I got ME. It is not so much being competitive with other people or being able to say I scored a HD—it's very personal. I did not realise how good I was at being a journalist until I could not do it anymore. If I dwell too much on what I have lost because of ME, I work myself into a depressive spiral, but I've learnt to pick up my knitting at these times— knitting gives me a sense of worth and stops me thinking about what I've lost, what I've become.
While the last six years have been tough, I'm a survivor, but I would not have survived without my husband Mike. I do not think that I would even be alive without Mike—he is just such a decent, loyal, human being. He has stood by me through all the ups and downs and inspires me to keep fighting ME— for his sake as much as my own.
I met Mike on a blind date in a cool bar one Friday night when I was 37. He drove me home after cocktails, formally shaking my hand at the front door. 'Goodbye,' he said. 'He's alright,' I thought. 'Oh well, that's over before it started.' Then he rang me on the Monday morning even though I had not given him my phone number. It turned out one of my work colleagues flatted with Mike and she gave him my number. When he called we chatted about nothing in particular until he asked me to have dinner with him that night. He left his work early to get ready, putting on a gorgeous Oxford suit. Then he picked me up from my office in his sparkling Lexus. My girlfriend Suzi stood on the curb watching out for him as I did not know what a Lexus looked like and I was not wearing my glasses, so I would not have been able to see him anyway. I did not expect us to click, but we clicked that night and we are still clicking 20 years later. There is nowhere I would rather be than at home with Mike.
My greatest hope is to get better, then return to work as a news or feature writer. I would also quite fancy teaching a course at university on what it is like to be a journalist. I would arrange guest speakers to talk about their experiences as journalists, including the good and the bad, the highs and the lows. I would love to work as a freelancer, but I do not like letting anyone down—if I'm stuck in bed feeling ill and have a deadline crushing down on me as well, it is paralysing. It makes me feel like a failure all over again. So freelancing for now is a dream that I will keep dreaming until I am well enough to be able to once more reliably meet deadlines.
Accepting the new me
 Here I am now in 2019. While on bad days I am still in shock because I am not the person I used to be,—I have mostly got to the stage where I can comfortably live with myself the way I have become. I can be happy with the new me. I have given up on a cure because I have invested enormous amounts of time and money searching for one—I've tried everything—and I have reluctantly concluded that a cure does not yet exist yet. So I may be as good as I'll ever be.
I have learned to accept that there is an old me and an old life and now a new me, a new life. The old me was a Type A, deadline driven, multi-tasking perfectionist who flew through every day without stopping to smell the roses. In hindsight, I realise that joy often slipped through the gaps because I was too frantic achieving my daily 'to do' list. I thought I loved my life then, but on reflection, I prefer it now. The new me is calmer. I can sit in my lounge chair and feel totally at peace, whereas before, as soon as I sat in that chair, a myriad of thoughts would flood my head and I would think about all the tasks I should be doing.
My biggest learning from ME has been turning my mind around and thinking in terms of blessings rather than losses. Thinking about what I have lost makes me depressed, so instead I look at the positives—Mike's unwavering love, my close and loving relationships with my siblings, nieces and nephews. And my friends and their families.
I have worked through immense difficulties and have worked hard on accepting that ME is part of my life. It maybe here to stay forever. Since accepting this possibility in the last year, my outlook on life has improved. I am a lot kinder to myself since I have stopped fixating on what I used to be like. I can look at my life now and feel immensely grateful for it. I have learned to treasure what I have and look at how I am contributing—making a difference in the lives of my family—rather than grieving about what I have lost. Some days, I feel boundless joy.
Embracing joy
You do have to look for the joy—it is the little things that are the big blessings. My family gives me great joy. I have six nieces and nephews between the ages of 13 and 20. Since I have been unwell my relationships with them have deepened—I am truly part of their lives now—not just a blow in aunt. When one of my nieces was 11-years-old her mother told her about the birds and the bees. I did not know about this until a whispering Grace phoned me, checking that what her mother had told her was correct. It was a funny conversation.
The same thing happened when Grace was going through some bullying at school. It was difficult for her to get her mother involved because the mothers have a pecking order and if you are being bullied by the child of one of your mother's friends, it is politically tricky for her to resolve—or at least that is what Grace thought. Nevertheless, together we worked out what to do and now the bullying has stopped. I love being so close to the kids as I never had this level of relationship with them when I was busy working.
At about the same time as ME started, my parents required a higher level of care than previously, but they wanted to stay living in their own home. Much of the time they just wanted someone around to talk to and I was perfect for that role because I had plenty time on my hands and was functioning at the same speed—an 86-year-old one—as my parents. It suited the three of us to sit and watch Colombo or reruns of Gone with the Wind or Breakfast at Tiffany's all day while everyone else buzzed in and out of the house.
The day before Dad died, he kept calling me into the bedroom—in and out I went, in and out.
     'Darling,' Dad called
     'Yes Dad, what's happening now?' I barked back.
     'Would you get me some malted milk please.'
This continued all day and I ran back and forth, back and forth then late in the afternoon he called me in again.
     'YES Dad?'
     'I just wanted to say thank you very much for everything you've done for me.' His loving eyes sparkled, and, in that moment, I knew all the pain I had been through with ME was worth it because it I could totally devote myself to caring for Dad.
I realised I had made a huge difference to Dad and then I did the same for Mum before she died—she always told me how grateful she was to me for everything I did for her.
Without ME, I would still be working in a high-powered job. Mum and Dad would have been forced to sell their home and move to a high care facility. I must remind myself that it is an incredible privilege to get to know your elderly parents and to make a tangible difference in their lives at the time they most need you to be there for them. My grief following Mum's and Dad's deaths would be very different now if had not been able to look after them and give them so much. So ME saved my parents and in one way it saved me because it enabled me to spend precious time with them.
I am grateful that ME did not happen when I was 18 because at least I got to experience being a journalist for several years. It was hard to accept that I could not work anymore but journalism is not like a profession such as medicine where a chronic illness may completely stop you working—I can still write stories, I can still do what I love to do—but now I must pace myself carefully. I have to accept that there are good days and bad days and if it is a bad day today, then tomorrow may be a good day. Look on the bright side rather than obsessing about the dark one.
Exploring my creativity
I am always looking around for things I can do and last year I started searching for something creative to fill my good days. I've knitted every night since I was 11, but have not improved much despite all the practise, so when I heard about an online knitwear design course, I jumped at the opportunity to fine-tune my knitting skills. I will be learning how to chart patterns and knit intricately designed baby clothes, jumpers and cardigans. It will boost my self-esteem—I will be able to confidently say: 'Look at this, I'm really good at it.' I am thinking that I could launch a knitwear design blog or make patterns and knit garments for clients.
I am sure that by exploring my creativity I will discover my next step… then the next one after that… and in that way will create a new future for myself. So the way I feel is that the carpet might be ripped out from under you but you can find another carpet to stand on and that is what I am doing with my life now.
If you would like Share your life story to write your life story for you email: [email protected] or call Gabriella on 0408 256 381.