We can only solve our planet's wicked problems if we all do it together
David Mason, Volunteer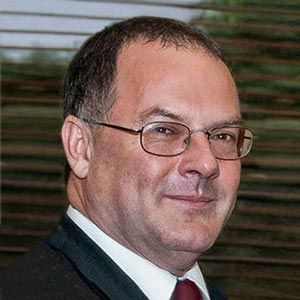 A few weeks after receiving a Public Service Medal honouring my contribution to human rights policy and law in Australia during my 26 years at the Human Rights Commission, I was faced with a stark choice—work for a new manager who I believed lacked the knowledge and skills to do the job competently—or leave. Leave an organisation that for a quarter of a century had fulfilled my need to secure greater social justice for marginalised groups of Australians.
So, I resigned.
It sounds simple and it was, in practical terms. At first, it was elating to make that decision after so long in the one place, but it was triggered deep emotions. What's next? When you leave an office you have worked in for 26 years, you lose a large part of your social life. The routine you have followed for nearly half of your life is no more. It is isolating to wake up each morning and wonder how you will spend the day. How you will fill the time … on your own.
You have to make the decision to get started. Start what? How? When there are no meetings to give you structure, no senior management team to give you direction, how do you begin? What's the first step? The second? What should I do today? Tomorrow? You could spend the rest of your life trying to decide what to do and then you would never get started. There has been so much philosophical discussion of what makes a good life. In my view, it is certainly not one spent trying to decide what to do.
The Beginning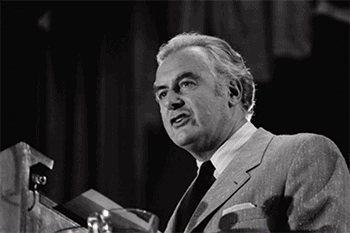 I knew as a teenager in the early 1970s that I wanted to work in public policy and contribute to furthering social justice in Australia. I wanted to go to Canberra to work for the then Prime Minister Gough Whitlam. But history got in the way of that plan on 11 November 1975 when Sir John Kerr dismissed Gough. I was devastated and angry, but fortunately retained my passion for public policy. That is why I went to law school—to acquire some of the tools required to contribute in a meaningful way to the Australian policy landscape.
My first job was as a research assistant for the late Professor Alice Tay AM, who was President of the Human Rights and Opportunity Commission from 1998 to 2003. She offered me the role towards the end of my final year of law. I happily accepted. Alice was the first in a series of strong women who have powerfully influenced me throughout my life. I will come back to that theme again and again.
My job as an academic writing about important human rights issues was where I wanted to be, but I also wanted to be involved. I wanted to draft the policies rather than critique them. After a few years I saw an advertisement in the Sydney Morning Herald newspaper for an entry level position at the Human Rights Commission. It was pre-internet, so I had to rock up to the Commission to access the job description and selection documentation. While I was there I bumped into Merryl Lees, a friend from law school. She suggested that we have some soup, so we went to Soup Plus, the downstairs jazz club in Sydney's George Street. Merryl told me about the Commission's current projects and the issues I should discuss in my application. It became apparent during the conversation that Merryl was applying for the same job as she was on a temporary contract. I spluttered on my soup.
     'What are you doing?' I said.
     'Come on,' Merryl smiled. 'You can't live your life like that.'
Which I have never forgotten. It was such an exemplary attitude and real friendship that she was displaying. Fortunately, the Commission decided to fill two jobs, so it all ended happily. Merryl is one of the women who deeply influenced my journey.
The next 26 years
I started at the Human Rights Commission in 1988. During the following 26 years, with the encouragement and support of several talented women, I achieved much beneficial reform for which I was awarded a Public Service Medal. Merryl suggested that I drive a project to increase transport accessibility for people with disabilities. I pursued this goal for several years. Another project I focused on was increasing television captioning for people with a hearing disability and again, this is now a reality. There are many similar examples. At the end of the day, I believe I was able to fulfil my need to increase social justice in this role and for that I'm deeply grateful.
I thought about what Paul Keating did when he was awarded the AC— declining it on the basis that you shouldn't get an award for things you love doing and that you are paid to do. However, I decided to accept the Public Service Medal because it was a recognition of the work of the organisation and teams of people rather than being purely personal for me.
Over the years, several friends and my big sister, Jenny Mason, suggested that I ought to change tracks and be admitted as a barrister. However, I couldn't see myself in court so did not follow this path even though it would have opened up a number of tremendous possibilities. 
I had a couple of managers who thought I should leave the Commission, not because they wanted to get rid of me, but because they thought I should run a small human rights NGO. To be frank, I was quite happy about not having to think about things like fundraising and IT problems that are taken care of when you work for a large organisation. It means you can concentrate on the substance in terms of intellectual work or negotiating with networks of people, not having to be fussed about whether your phone works or the computer is functioning or things like that, so it might look a little less than brave to have stayed in the same organisation for 26 years, but it was a really good location from which to seek to achieve good things and have a fulfilling time doing so.
Realistically, although I am quite introverted, I do like showing off sometimes, so having a position from which to achieve things which would make a difference was satisfying. I enjoyed having a degree of authority, and so moving from that place of influence and power to nothing, was a difficult thing to do when I resigned from the Commission.
That happened because after working with a series of statutory officers who had their different strengths and weaknesses and various governments of different persuasions, I came to a point where someone was appointed to be my boss with whom I could not work. It was a simple decision. 'I can't do this,' I said, 'so I won't do it.' There is no point working in a situation where you have to be completely dishonest and show respect for someone you despise. You work within the system you are given.
Once someone was appointed who was clearly not suited for the role, it was a matter of a relationship that would not work. So I left before that officer arrived, helped by the fact that since my boss's position had not been filled for some time, it wasn't funded, so several officers at my level had to take redundancies for the organisation to be able to fund his position. So I decided to combine that organisational need with my own preference and I put my hand up for a redundancy. I won't say I am sad about it, but I still identify with the Commission because it was such a big part of my life. When I talk about the Human Rights Commission I still, five years later, refer to it as 'We'.
Leaving the Commission after so long was wrenching. Wrenching to give up a secure environment. A place where I had stable sources of friendship, reassurance and authority. Walking away from that was an eerie thing. It was simple to do it from a practical perspective, but at the same time, immensely difficult.
I always felt fortunate to be at the Commission because so many times when I trawled through piles of applications for much more junior positions than mine, I was amazed at the high calibre of the young men and women applying for the roles. I don't think the 28-year-old me would now get my entry level job. Young people, particularly those who have not just done the standard things like law school and completed another degree, plus maybe a couple of years of legal work, but people who have done some solid work in community organisations over a period as well.
Around the time I was contemplating moving on, I went to an event put on by the Labor Party think tank, the Chifley Research Centre, which aimed to encourage participants to think about the big issues for democratic political parties to engage with. One of the themes was the environment and in particular, climate change. That is how I met up with a couple of people who were leading lights in the Labor Environment Action Network.
To return to the theme of inspiring women—one of the event organisers I met at the Chifley event was Felicity Wade. She had worked as a political staffer and activist and spent most of her time as the national convenor of the Labor Environment Action Network. At the end of her presentation, several people proffered advice about what the organisation ought to be doing. I walked up to her, introducing myself.
     'There's lots of people telling you what you should be doing,' I said.
     'Yes, you are right,' Felicity said, frowning.     
     'I didn't notice anyone saying: "What can I do?"' I said. 'So what can I do for you?'
And the timing seemed to fit perfectly. However, I had no idea what I could usefully contribute to the organisation at the time.
Moving into the voluntary sector
Even though I had dealt with a range of public policy subjects at the Human Rights Commission, they were always within the framework of human rights and discrimination policy. I have always been interested in environmental issues as I grew up in the Blue Mountains National Park where the natural environment is paramount. The human interface with the environment is a constant factor that you cannot escape, especially when there are bushfires. But I had spent zero time studying environmental law. I had no expertise in it. I knew it was a critically important issue, but I didn't know in any detail the science around climate change. But I was keen to see what I could contribute. To my  surprise I discovered that one early thing I could do was assist with managing the Labor Environment Action Network's Twitter account.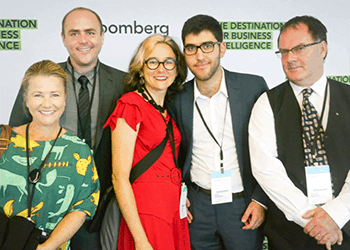 Being restricted to 140 characters in a Tweet was challenging and a new learning experience for me, as I had been accustomed to writing pieces of 6,000 words or more. So the transition to writing worthwhile comments in 140 characters was good in terms of acquiring discipline. It has been quite fun to do it as well. The transition from a publicly funded agency to an organisation held together by a few bits of string and sticky tape, tiny bits of money and lots of effort, is a big one.
I found working at home all day by myself was lonely and feelings of isolation were an issue for me at first. However, a brush with cancer a few months after leaving the Commission took my mind off it for a while. I was so busy with scans, treatment, surgery and Network activities that I had little time to dwell on how I felt. Maybe once or twice when I was between crises I wondered about what else I could do. Then the next morning, something else came along and I was incredibly busy again.
Feelings of isolation are now reduced by regular face-to-face meetings, and I look forward to our trips to Canberra to see our parliamentary colleagues. If there are meetings in Canberra or Melbourne I pay for my own flights or drive. It is a good reminder that money doesn't fall from the sky. To be able to work effectively in a poorly funded environment has been reassuring. I remember a great piece of advice from a former colleague: 'You can complain about a lack of resources or be resourceful.' I have taken the latter approach lately.
Trips to Canberra are a good opportunity to return to the environment in which I operated confidently and successfully for 26 years. I still get lost in the corridors of Parliament House, but I feel at home in a senator or minister's office because I spent a lot of time there in the past. It is also a source of internal and external validation within the group as we have some volunteers with knowledge and experience in environmental issues but no political background. The first time we do the rounds of parliamentarians, it is a new experience for them, so being able to accompany them through that experience has been rewarding for me.
Committing as heavily as I have to the voluntary work was easier because of my lack of success in getting very far with paid opportunities that suited me. I was approached for a few roles, but all those years of doing exactly what I was interested in, and having a hefty redundancy payout, made me pretty fussy about how I would spend my time. The behaviour of recruiters who did not return phone calls and emails was disappointing and I was particularly surprised not to be interviewed for a job with a non-government organisation I had cooperated with for many years.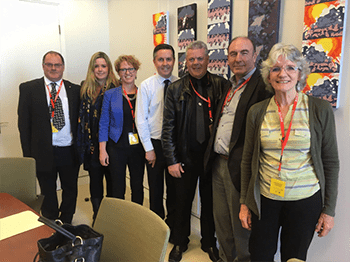 I think my lack of success in finding work shows a few things. Firstly, the sheer number of talented younger people applying for jobs today demonstrates the strong talent pool in Australia. It is so great to see. Also, you need to accept that organisations may have a different view of who fits a role than you do. Moving between government and non-government roles for example can involve different skills and expectations on both sides. And finally, as a privileged white male without a disability, I am hardly going to start whingeing loudly about discrimination. But it is true that men over 55, as I am, and similarly for women, often struggle to get a foot in the door when organisations are seeking to build for the future. That is partly why my thoughts for paid work at present are more towards short-term roles and contract work. Part of me still yearns for some form of paid work. Many people do not value your time as much when you work as a volunteer, and I do not want to retire. It makes the hairs on the back of my neck prickle when people ask me how I'm finding retirement.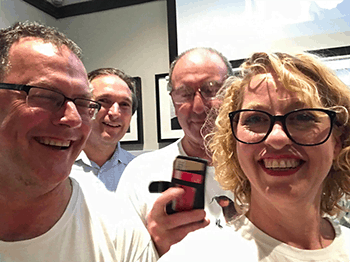 The move into the voluntary sector has been reassuring to find after all that time at the Human Rights Commission I have some transferable skills. It is encouraging because the work we do for the Network is political and public policy focused. When issues come up and there is a need to make a rapid and well-focused intervention, it has been good to be able to act quickly and decisively—to write a media release in 20 minutes or draft a more substantial submission in 40 minutes.
I have been researching myriads of documents for Labor's campaign on reform of Federal environmental law for the last few months. I spend my days trawling through mountains of critiques of what is currently in place—the sort of work that was my daily bread and butter for so long. I am reading piles of submissions and official reports, expert commentaries and community information and even though the subject matter has changed, it is essentially the same. It was not a scary barrier to move into a totally new area of policy because the skills I used for all those years are actually transferable.
However, an unfamiliar role for me is coordinating the New South Wales component of a national campaign we are currently doing on reform of environmental law. It involves lots of organising and coordinating groups of volunteers who are travelling around talking to Labor Party branches and gaining support for the Party's platform. I have two big screens on my desk outlining what Network volunteers are doing, the resources they require to do their job, who needs more copies of our campaign booklets posted to them and what the status of that is. These are the same administrative tasks that I carefully avoided at the Human Rights Commission. I assiduously resisted project management courses in the public sector and had a bit of a disregard for the world of Gant charts. Instead I would say: 'Let's just learn by doing'. It's quite belatedly good to be now acquiring new capacities in this area.
In terms of a take-out for anyone transitioning from their career, putting yourself into a role that is different gives you a chance to discover that you have interchangeable capabilities. It gives you the opportunity to exercise your know-how in different ways. It is a tremendous opportunity to develop new aspects of your portfolio and in my case, capabilities that I had consistently resisted learning through training courses. I still think learning by doing is an important part of how to approach things. If an opportunity presents itself, do not hesitate because it takes you into territory where you have not already done it, or you are not completely confident. Instead just do it and then you will have experience.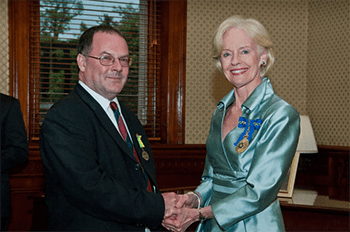 The sensation of constant self-validation through work is important for me. I need to work to feel myself. I do not take holidays easily. Travelling is enjoyable when I do it, but I prefer to have a purpose. I can't imagine travelling somewhere where I couldn't do little bits of work online. The thought is a horror to me. If someone said, 'Let's go somewhere where's there's no internet.' I'd say: 'NO! I need to work.' I believe the strongest expression of your values is seen in how you live your life. If we look for what are good statements of value—one is in Tolstoy's War and Peace where one of the characters says the only two virtues worth anything are energy and intelligence. For me, this sums up the way I live. What is the point of life without work?
Reflecting on what I would have done differently if I had my time again, I am not sure I always took as effective advantage of opportunities that came my way. I would not say I should have pursued a different career, but more within the working life I had. There were several times when I probably allowed frustration with a situation to stop me instead of saying, 'What's the opportunity here?' I did get better at that. I spent a lot of time writing speeches. You can either see speeches as a waste of time or seek to use them to achieve an objective with positive outcomes. There were a couple of speeches where I was extremely busy doing something else and I asked if it was really something the organisation should be doing. I did get better at identifying the opportunity and some of my best pieces of work were from that starting point. When younger, I remember times when I did not do that effectively. I should have been more self-reflective and asked myself how I could turn the situation around into something worthwhile. My greatest learning from these episodes is that you should not indulge yourself in frustration or sarcasm. Rather it is best to identify and embrace opportunities and look for the possibilities in everything you do. And that's what I'm now doing in my post-Commission life.
I feel some confidence that most of the solutions to the devastating impacts of climate change are at hand and will eventually be implemented when governments have the political will to do so. It will not happen as quickly as I would like, but I don't have any trouble feeling optimistic about that aspect of my work. On the other hand, I have little optimism that we will solve the larger problem of environmental destruction. Humans will continue to have a disastrous impact on the environment we depend on; many more of the creatures we share the planet with will become extinct and all of us will suffer from that. It is what we do as human beings. We take up more resources each year than the planet can sustain.
When I think about big issues like environmental degradation, the ones I feel pessimistic about, we could do what I heard someone say, 'Let's all just go and get drunk. It won't make any difference.' Alternately, you could take the stoic approach which resonates in Tolkien's work, that it is up to us to solve these problems. Tolkien's view is that if you don't make every effort you can when everything seems hopeless, then you will not be in a position for the sudden unexpected events that changes the position from hopeless to hopeful or more successful.
Years ago, I heard a good metaphor for the world's problems by Peter Gabriel when he and others were involved in the concert to support Amnesty International. 'We're all in a little boat on the ocean together,' Peter Gabriel said. 'The food supplies may run out, passengers in third class have no water. We can only solve these issues if we all do it together.'
So it is not a lofty philosophic statement, but my hope is, without immobilising myself with constant rumination about whether this is the most important place I should be spending my post-Commission life, what I am doing is the best thing I could be doing today. I hope that I am making a difference and will continue to for as long as I can. 
The energy and verve of younger people inspires me, giving me hope for the future. Not just my own sons, but it is inspiring to see how bright, energetic and passionate some young people are. It is so fashionable to speak about Gen X or Y and to say that all they are interested in is smashed avocado on toast or the best coffee. It is not true. The lack of engagement with formal politics of younger generations does worry me—you have to engage with the political system we have because if you don't we end up with Donald Trump or Brexit. If you are too passive to participate, that is what happens. I can see why the disenchantment of the younger generation happens. It is not because they are cynical. It is because they are not. The people who inspire me are the ones who see all this but are engaged anyway.
I can think of a few young people who are engaged across the spectrum of the big issues—fighting against sexism, fighting for restoration of Indigenous rights and fighting to the point of being arrested for protesting about environmental causes, yet they are progressing through university, excelling in their studies, living and breathing social justice, and they still keep going. They keep going despite the ever-increasing catastrophic weather events, bushfires, sea level rises resulting from climate change and the deeply worrying environmental issues. It would be so easy to give up and think, 'I'm not going to think about that, I'll just go to the pub.' But they do not give up. They continue to seek solutions and fight for justice.
A recurring theme throughout my life has been the influence of a series of strong women, starting with Alice Tay. Not all men appreciate or respond well to female leadership. I think that is harming your own potential and ability to function in the world if you cannot cope with women as superiors. The other reason I mention this is that in my current voluntary roles, it is very much the reality. Our national executive is 100 per cent female. All fantastic women. That has been an important feature for me— all along. Maybe men my age looking to a change of career have already absorbed the idea that the world is changing. And we must change with it if we are to be energised and have a deeply fulfilling future.
As I enter my fifth year of voluntary work, I encourage anyone contemplating a transition out of the paid workforce to embrace opportunities that come your way. Or create your own opportunities. Step into the unknown, confident that you have transferable skills acquired through decades of hard work. Capabilities that will stand you in good stead in the voluntary sector or wherever you choose to invest your energies.
If you would like Share your life story to write your life story for you email: [email protected] or call Gabriella on 0408 256 381.